Did your skirt or pants just split? Like the pattern of a long sleeved shirt, but tired of wearing it? Can't be bothered to alter a shirt that's a tad too big? On the hunt for a new skirt style? Did you inherit a bunch of shirts from an ex? Well, here's a cheap, diy answer...turn that shirt into a skirt!
I read about the idea
here
on Chictopia, but apparently, the Japanese have been pulling off this look for years! Why am I not surprised?
Anyway, I decided to try out the trend for myself, and here are the results...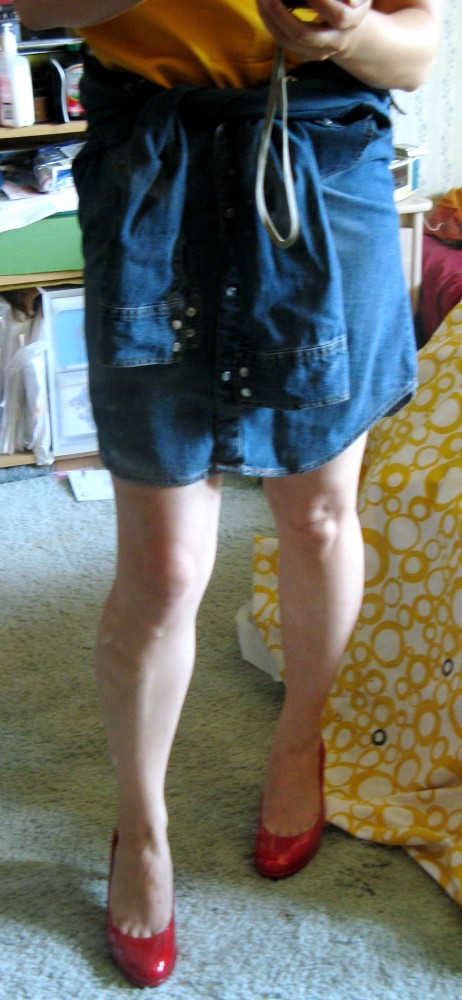 After trying quite a few button-ups in my closet, I settled on this snap button denim shirt which was a more relaxed fit. Shirt Skirt would probably work best with an oversized shirt, so that you can have more material to play with, and even make a bow out of the sleeves.
Minus the shoes, if you don't have these items in your closet already, it'll cost you $15 tops! I purchased both the shirt (Gap, $9.99) + vintage Christian Dior silk tank (~$5) at Value Village.
If you're brave enough to attempt the look, here are a few tips:
- Do not use a slim fit shirt. There are just not enough buttons/material to work with!
- The look is meant to look asymmetrical. So a tail-cut buttom hem is probably a bit more flattering than a shirt cut straight across.
- Belt not required. Unless you use a short-sleeved shirt, the sleeves act as a belt, so skip this extra bulk!
- Try doing up the buttons asymmetrically, on the diagonal.
- Aside from button-ups, you can use other shirts as well, including cardigans and sweaters. If it's a pullover, just make sure your waist fits through the neck.
- Play with different patterns and textures! This look is not meant to be Banana Republic-Safe. Try polka dots, florals, or even stripes!
- Balance out your proportions. Since the bottom is a bit bulky, with the sleeve-belt, pair it with a more fitted top.
- Have fun! Fashion is only about taking risks, but it's meant to be fun as well. So don't forget that!
Be brave! My version felt pretty secure. ;)