Rage Against Suburban Zombie-ism
Thursday, July 28, 2011
Fall Boot Trends - 2011
Over-the-Knee Boots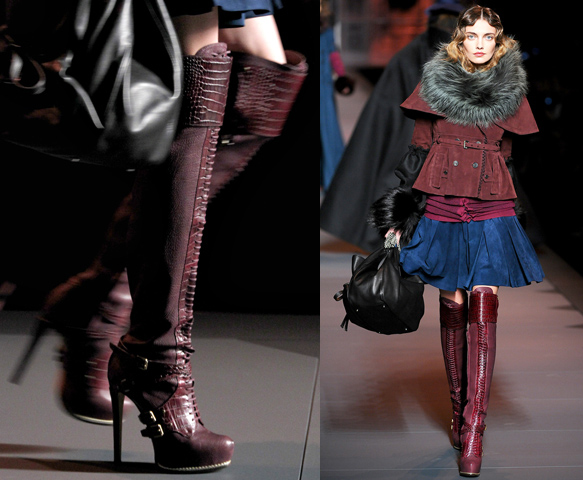 I'm always conflicted about this trend as I'm under 5' tall. A coupla years ago, I did own a pair of FLAT over-the-knee pirate boots, but a heel probably would've helped to lengthen my legs.
These laced-up, heeled Dior boots look KILLER...in a good way. What I do like about this particular pair is that they're jeweled-toned which is much better than black all over!
Mary Jane Boots
From Prada's F/W2011 RTW collection, this is more of a personal entry than a fashion trend as I doubt many people would be able to afford $2400US+ (snakeskin) or even a measly $1500US (suede).
I love the ultra-feminine style, colour combination, and use of different textures of leather! Actually, there's nothing that I dislike about them. ;) The only thing that I can think of is that they aren't as practical as they are fashionable, especially on wet days.
Click
here
to ogle at the various colour/leather combinations.
Riding Boots
a.k.a. Field Boots, they're traditionally flat, although some designers have decided to put a twist to the look - and torture for the feet of fashion slaves - by adding a high heel, most of the time stiletto. :(

Ouch

!
I'll trade in the stiletto heels for these other details: nice, metal harness around the ankles, partial lace-up, Spanish Cut, or a classy buckle around ankles

or

calves.
Aside from the rigid leather, Riding Boots look fairly easy to wear.
Booties
(Ignore the pump on the bottom right-hand side.)
Forgoing the lace-up stiletto booties, these sleek, lower-heeled booties are more my style! Think Acne, Alexander Wang, Jil Sander, or the chocolate brown ones with studs, zebra print ponyhair, or black pull-on ones, etc.
Simple, easy to walk in, and hopefully won't make my legs look frumpy-stumpy!
So ladies, before the first leaf hits the ground, can you please place all those UGGs, Hunters, faux fur moccasins in an incinerator! Notice how none of them made it onto my list or these...
Vibram Five Finger Boots



Nasty. Unsightly. Who is gonna buy this shit??

Labels: Fall boot boots fashion trends 2011



posted by Stephania at 1:39 pm
|